Dr David Hopkins
BSc (Hons) MB ChB FRCP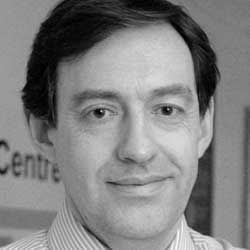 David Hopkins is a consultant physician and diabetologist based in London. He is a Director and Clinical Academic Group lead for the newly inaugurated Institute of Diabetes, Endocrinology and Obesity at King's Health Partners, an academic health science centre comprising King's College London, King's College Hospital, Guy's & St Thomas' Hospitals and South London &...
About David
He runs NHS diabetes clinics at King's College Hospital and also for Bromley Healthcare in Beckenham and Croydon and has particular clinical interests in insulin pump therapy, management of advanced diabetes complications and in support of bariatric surgery and novel procedures for weight management in type 2 diabetes.
He trained in clinical diabetes in Liverpool and London and has held consultant posts at Central Middlesex Hospital and King's College Hospital where he has been clinical director since 2010 and joint clinical academic group lead since 2014.
In parallel with clinical work, David received academic training in Liverpool and London, studying the effects of insulin in human brain and responses to hypoglycaemia. He has a broad portfolio of active research interests including studies in the fields of patient structured education, the use of wearable technology to prevent type 2 diabetes and novel interventions for management of type 2 diabetes.
He is a member of the Council of Healthcare Professionals at Diabetes UK and of the DAFNE national executive, where he leads the national clinical audit programme for the DAFNE collaborative, as well as chair of the Medical Advisory Committee.