We are The London
Diabetes Centre
Here to help you live your best life
We're the UK's leading private provider of specialist diabetes care, delivered by our team of world-class experts. It's our mission to provide cutting edge treatment that is tailored just for you. That means taking the time to listen to you and partnering with you every step of the journey.
Hear from our patients how they have taken control of their diabetes
Louisa struggled with shock and denial after her type 1 diagnosis
It wasn't until she accepted her diagnosis with the help of her doctor at The London Diabetes Centre that Louisa was able to understand her type 1 diabetes and take control of her health.
Let us help you get back in control of your diagnosis
If you are frustrated or worried, we are here to help and guide you and will do whatever we can to get you in control.
Managing blood sugar levels can be a challenge, especially during childhood and adolescence
Having freedom of choice and flexibility in the daily management of her daughter's blood sugar levels was an essential reason this mother chose the London Diabetes Centre for her daughter's care.
Carol has enjoyed continuous, personalised care with her long-time diabetes specialist
Together with her long-time diabetes specialist Dr Abraham, Carol has worked on finding the right medication for her needs as they have changed over the years.
We offer you a second opinion that goes beyond 'one-size-fits-all'
Our Diabetes Clinic Facilitator Carol will listen to your whole story and match you with a team of experts based on your specific needs.
Meet your partners in care
Here at The London Diabetes Centre we help you understand your diabetes so you can take charge of your whole health and feel secure and in-control
We're proud to be a part of the London Medical family, the UK's premier private health clinic. As such, we enjoy access to a full range of cutting-edge resources, treatments and skills, all tailored and adjustable to your needs.
We understand that you're so much more than a collection of symptoms – we're here to support your long-term physical and emotional well-being. At The London Diabetes Centre, you get flexibility and choice of care that fits around your schedule and your needs.
Empathy and unparalleled support throughout your journey
State-of-the-art diagnostics and equipment
Access to experts when you need them
World-class consultants at the top of their field
Located in London Medical's clinic in the Harley Street medical area, our award-winning London centre offers the finest facilities for your care, all under one roof
A 30-minute consultation with a DSN or diabetes dietitian
Diabetes risk questionnaire
Height, weight, blood pressure, HbA1c blood test and Body Composition Analysis
Our plan is designed for patients who have not been diagnosed with diabetes who want to check their current health status and understand if they are at risk of developing diabetes.
A 45-minute diabetes consultant consultation with written report
A 60-minute diabetes dietitian or DSN appointment
Height, weight, blood pressure, HbA1c blood test and glucose test
Our plan is designed for recently diagnosed patients who are unsure about their diagnosis and need a second opinion or need help deciding on their care plan.
A 45-minute diabetes consultant consultation with written report
A 60-minute diabetes dietitian or DSN appointment
Height, Weight & Blood Pressure, HBA1c, Blood Glucose, Urine Alb/Cr and other tests
This Gold Standard in diabetes assessment will cover most people's fundamental requirements for diabetes care.
45 minute consultation with Diabetes Consultant to discuss the results and provide a written report
Advanced Lipoprotein Analysis
An OCT - Optical coherence tomography, Ankle and Toe Brachial Index and DEXA scan
This premium plan includes an in depth assessment of your diabetes status and also your wider health risks concerning cholesterol and metabolic health
Diabetes education and events
Your diabetes information hub
Our diabetes information and well-being hub is your go-to place for trusted health knowledge. Access educational insights from our world-renowned experts and patients alike and stay abreast of our latest news and events.
Looking to speak with a member of our team?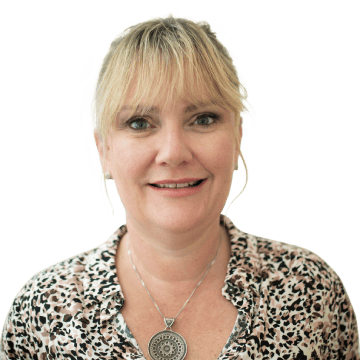 Carol Willis - Diabetes Clinic Facilitator
If you couldn't find what you were looking for today, feel free to give us a call at 0800 048 3330 and ask Carol and her team. Alternatively, just fill in this form and someone will get in touch with you promptly. By using this form, you are consenting to the storage and handling of the data contained in the form by our team.