Kidney and heart protection
Protect yourself against long-term heart and kidney complications with cutting-edge diabetes treatments
Over time diabetes can affect the blood vessels and the circulation. With diabetes, a person has a much higher risk of heart and kidney complications than without diabetes. The heart and kidneys are at particular risk of disease, which impacts on health, wellbeing and longevity. Excellent diabetes management and tight glucose control together with blood pressure, weight and cholesterol control, can help prevent these long-term complications. The London Diabetes Centre offers cutting-edge diabetes treatment and tests with consultant cardiologists and nephrologists available (OMIT) to safeguard your health.
Working together to control your diabetes
The best way to prevent the long-term complications of diabetes is to carefully control blood glucose levels. Eating a healthy diet, living an active life, monitoring blood sugar levels and taking the right treatment can help reduce the risk of damage to the blood vessels.
Keep your blood sugar levels within your target range. Attend regular diabetes checks to stay on track and ensure problems are picked up at an early stage.
The diabetes team will monitor your blood pressure and treat any hypertension. Commit to taking any diabetes medication regularly and reliably.
The London Diabetes Centre will regularly check your lipid profile and provide any treatment you need. All patients with diabetes are recommended to be on a statin.
Stop smoking, it also damages the heart and blood vessels, The London Diabetes Centre can offer support to quit if you're finding it a struggle.
Live an active life. Physical exercise makes the heart stronger, increases blood flow, lowers blood pressure and helps weight loss.
A balanced diet can protect your cardiovascular system. The Mediterranean way of eating and DASH diets have benefits for your heart. Reduce salt, saturated fats, sugar and processed food and tuck into fresh fruit and vegetables, fish and lean meat, whole grains and pulses, and healthy fats. The London Diabetes Centre's specialist dietitians can provide advice and support.
If you're overweight, try to get to a healthy BMI. It can decrease your blood pressure, reduce the strain on your heart and may put type 2 diabetes into remission. London Medical can provide a truly personalised weight management programme to help you lose weight and keep it off.
If you know you have heart or kidney complications, then talk with your doctor to make sure your medication is chosen so that you achieve extra protection of your heart and kidneys.
The London Diabetes Centre are leaders in modern diabetes care. The specialist multidisciplinary team can provide support, medication and cutting-edge technology to help you take control of your diabetes.
Diabetes and your blood vessels
People living with diabetes are up to four times more likely to be affected by diseases of the heart and circulatory system. High blood sugar with abnormal blood pressure or cholesterol levels affects the lining of the artery walls, making them more likely to fur-up with fatty deposits, in a process called atherosclerosis.
People with type 2 diabetes, in particular, are also more likely to have raised levels of triglycerides and low levels of 'good' HDL cholesterol which also makes atherosclerosis more likely.
The fatty deposits gradually build-up and harden making the vessels narrower. Eventually, this restricts the flow of blood and the supply of oxygen to the tissues.
At The London Diabetes Centre, we monitor your arterial health regularly, increasing the intensity of medication for cholesterol, if there is evidence of deterioration.
Protecting your heart and kidneys with The London Diabetes Centre
When the vessels supplying the muscles of the heart become significantly narrowed, you may get chest pain when exercising and are at risk of a heart attack.
Lifestyle changes together with control of diabetes, cholesterol levels and blood pressure are the most effective ways of preventing a heart attack. The London Diabetes Centre's diabetologists and cardiac consultants are world-leaders in cardiovascular disease prevention. We can do non-invasive regular tests of your heart health and advise on what medications will give you the greatest protection from heart and kidney involvement with diabetes. They can assess your personal risk of cardiac disease and provide treatment and support to help you maintain your heart health.
A 30-minute consultation with a DSN or diabetes dietitian
Diabetes risk questionnaire
Height, weight, blood pressure, HbA1c blood test and Body Composition Analysis
Our plan is designed for patients who have not been diagnosed with diabetes who want to check their current health status and understand if they are at risk of developing diabetes.
A 45-minute diabetes consultant consultation with written report
A 60-minute diabetes dietitian or DSN appointment
Height, weight, blood pressure, HbA1c blood test and glucose test
Our plan is designed for recently diagnosed patients who are unsure about their diagnosis and need a second opinion or need help deciding on their care plan.
A 45-minute diabetes consultant consultation with written report
A 60-minute diabetes dietitian or DSN appointment
Height, Weight & Blood Pressure, HBA1c, Blood Glucose, Urine Alb/Cr and other tests
This Gold Standard in diabetes assessment will cover most people's fundamental requirements for diabetes care.
45 minute consultation with Diabetes Consultant to discuss the results and provide a written report
Advanced Lipoprotein Analysis
An OCT - Optical coherence tomography, Ankle and Toe Brachial Index and DEXA scan
This premium plan includes an in depth assessment of your diabetes status and also your wider health risks concerning cholesterol and metabolic health
Looking to speak with a member of our team?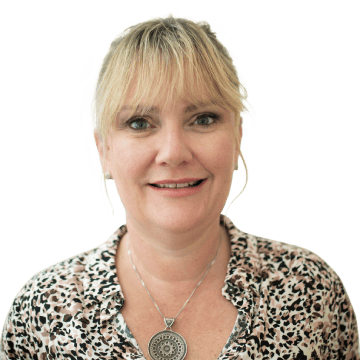 Carol Willis - Diabetes Clinic Facilitator
If you couldn't find what you were looking for today, feel free to give us a call at 0800 048 3330 and ask Carol and her team. Alternatively, just fill in this form and someone will get in touch with you promptly. By using this form, you are consenting to the storage and handling of the data contained in the form by our team.