Pregnancy care for type 1 diabetics
Of course, having type 1 diabetes shouldn't prevent you from having a baby. But it does mean that you and your unborn child need the very best, most expert care, at every stage of your pregnancy – preferably starting before you conceive. We're here to take the best possible care of you.
Preconception planning and care
If you have type 1 diabetes and are planning to have a baby, it's extremely important to establish good blood glucose control before conception, in order to reduce the risk of miscarriage and serious birth defects.
At a preconception appointment, your diabetes consultant will discuss optimal blood glucose levels and a safe HbA1c goal, which you will aim to achieve before conceiving.
The consultant may suggest having your HbA1c monitored more frequently during this period. You may also be advised to consider insulin pump therapy and continuous glucose monitoring, to help you achieve optimal diabetes control.
Healthy diet, healthy pregnancy
Of course, it's also very important to eat healthily during pregnancy – and our specialist diabetes dietitians will be able to advise you on an individualised diet and supplements if required.
If you have a body mass index above 27, you may be advised to lose weight before becoming pregnant. Obesity can increase complications such as high blood pressure and increase the chances of having a caesarean section.
Other important pre-pregnancy checks
If you suffer from hypothyroidism or low thyroid function, it may affect your developing baby's nervous system, so it should be treated before you conceive.
You should also get a comprehensive eye exam, and have your kidney function tested, before becoming pregnant.
The Nine-Month Pregnancy Stretch
To create the ideal environment needed to produce a healthy baby, strictly controlled blood glucose levels are crucial. This is a challenge for a variety of reasons.
In the first trimester, you might not notice any changes, though many women with type 1 diabetes experience hypoglycemia during this period. But around week 20, your insulin resistance will increase, raising your blood glucose.
Insulin resistance builds as pregnancy continues and by the end of the third trimester, your insulin needs may be double what they were before pregnancy.
This means that frequent insulin adjustments must be made throughout your pregnancy. Our team of diabetes specialist nurses and dietitians will be on hand to provide expert and timely support – face-to-face, or by phone or email – ensuring your insulin is controlled as precisely as possible during this vitally important period.
Looking after your newborn baby
After your baby is born, blood glucose tends to stabilise to pre-pregnancy levels fairly quickly; but women who breast-feed have a tendency to develop hypoglycaemia.
It's a good idea to breast-feed because it can reduce the risk of type 1 diabetes in your baby, but it does mean we'll need to closely monitor your blood glucose.
Continuous monitoring of your glucose readings by an expert team
Stay alert of any trends or issues that arise in your readings
Together with your diabetes specialist nurse, agree an action plan if a serious issue arises
Breathe easy knowing that you'll also have access to a specialist to clear up any confusion or doubt that you may experience.
A 30-minute consultation with an experienced Diabetes specialist consultant including a review of your medical history and clinical treatment.
Expert analysis of CGM and blood tests previously performed by your GP or hospital diabetes team.
Individual care-plan and recommendations for treatment, depending on the results of the review.
Expert second opinions in the comfort of your home to help you improve your diabetes control and safeguard your health.
A 30-minute consultation with an experienced diabetes specialist nurse.
A professional assessment of your diabetes status.
This includes an HbA1C test, which provides a picture of your average blood glucose over the previous few months.
The Diabetes Introduction package is for people who have recently been diagnosed with diabetes and those who are worried about their risk of developing the condition.
Consultant Comprehensive Review
A 30-minute consultation with a leading Diabetes specialist consultant
Pathology tests including HbA1C, cholesterol and lipids, full blood count and analysis of liver, kidney and thyroid function.
Bespoke care plan to improve your diabetes management.
The Comprehensive Consultant Review is our in-depth consultation. It provides a more comprehensive assessment of your diabetes and general health.
Diabetes Weight Management
You will be supervised throughout by a leading Diabetes consultant specialising in weight management including at least one consultation
You will be provided with appropriate advanced weight loss control medication at least a 4 week programme
Bespoke plan to improve your diabetes weight management and support throughout the programme from your dedicated Health Coach to encourage you and answer any questions
The London Diabetes Centre provides a range of remote weight management plans so you can access the support you need to reach your health goals, wherever you live.
A 30-minute consultation with a DSN or diabetes dietitian
Diabetes risk questionnaire
Height, weight, blood pressure, HbA1c blood test and Body Composition Analysis
Our plan is designed for patients who have not been diagnosed with diabetes who want to check their current health status and understand if they are at risk of developing diabetes.
A 45-minute diabetes consultant consultation with written report
A 60-minute diabetes dietitian or DSN appointment
Height, weight, blood pressure, HbA1c blood test and glucose test
Our plan is designed for recently diagnosed patients who are unsure about their diagnosis and need a second opinion or need help deciding on their care plan.
A 45-minute diabetes consultant consultation with written report
A 60-minute diabetes dietitian or DSN appointment
Height, Weight & Blood Pressure, HBA1c, Blood Glucose, Urine Alb/Cr and other tests
This Gold Standard in diabetes assessment will cover most people's fundamental requirements for diabetes care.
45 minute consultation with Diabetes Consultant to discuss the results and provide a written report
Advanced Lipoprotein Analysis
An OCT - Optical coherence tomography, Ankle and Toe Brachial Index and DEXA scan
This premium plan includes an in depth assessment of your diabetes status and also your wider health risks concerning cholesterol and metabolic health
Looking to speak with a member of our team?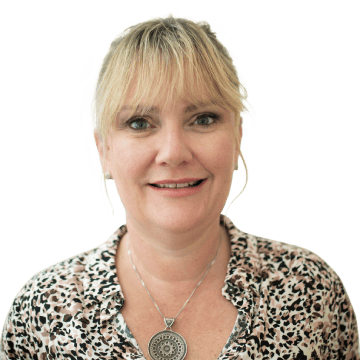 Carol Willis - Diabetes Clinic Facilitator
If you couldn't find what you were looking for today, feel free to give us a call at 0800 048 3330 and ask Carol and her team. Alternatively, just fill in this form and someone will get in touch with you promptly. By using this form, you are consenting to the storage and handling of the data contained in the form by our team.