Blood sugar monitoring for type 2 diabetics
Manage your diabetes with confidence
Careful glucose monitoring is key to controlling blood sugar levels, maintaining health and reducing the complications of diabetes. The expert professionals at The London Diabetes Centre offer the very latest technologies and treatments for diabetes. The multidisciplinary team can recommend an up-to-date device or recommend a continuous glucose monitor, so that you can actively manage your diabetes simply and with confidence.
The latest technology for accurate glucose monitoring
Regular glucose testing will help you learn how food, stress, exercise and other factors affect your sugar levels. This can help you and your specialist team adjust treatment, plan meals and keep your diabetes under control.
Technology is making understanding and analysing glucose readings much easier. Apps on smartphones or watches can help you keep an eye on your glucose trends. The London Diabetes Centre also encourages patients to work with the diabetes team to improve their control, by sharing glucose readings using Diasend, a web-based diabetes management system.
In addition to monitoring your own glucose levels, the specialist diabetes team at The London Diabetes Centre will arrange an HbA1c blood test every three to six months. It provides a picture of what your average blood glucose has been over the previous few months. The test is always available in our clinic, with results ready in less than within ten minutes. The team aim for a result of below 6.5%, a level that will protect your health and reduce the risk of diabetes complications.
Continuous glucose monitoring (CGM)?
Continuous glucose monitoring or CGM uses an implanted device to automatically measure the blood sugar levels, every few minutes, 24 hours a day. Finger prick tests provide a snap-shot of your blood glucose levels. Nobody enjoys finger prick tests done as many as 8-10 times a day. The information is difficult to interpret in relation to food intake or exercise. With hundreds of glucose measurements per day CGM offers a fuller picture, even when you're asleep.
The London Diabetes Centre has access to a full range of manufacturers and sensors. The experienced diabetes specialist nurses can help you choose the one that best suits your personal lifestyle and preferences. The Guardian Connect, Abbott Navigator, Dexcom G5, Medtrum A6 can all make monitoring your glucose and managing your diabetes easier. Research suggests that using a CGM can help reduce your Hba1c without the risk of hypoglycaemia.
Flash glucose monitoring is also possible with the FreeStyle Libre system. A smartphone app can scan the sensor and show how your sugar levels are changing over time. Unlike the CGM system, there is no alarm to highlight hypos or hypers, however it can be a cost-effective option.
Continuous monitoring of your glucose readings by an expert team
Stay alert of any trends or issues that arise in your readings
Together with your diabetes specialist nurse, agree an action plan if a serious issue arises
Breathe easy knowing that you'll also have access to a specialist to clear up any confusion or doubt that you may experience.
A 30-minute consultation with an experienced Diabetes specialist consultant including a review of your medical history and clinical treatment.
Expert analysis of CGM and blood tests previously performed by your GP or hospital diabetes team.
Individual care-plan and recommendations for treatment, depending on the results of the review.
Expert second opinions in the comfort of your home to help you improve your diabetes control and safeguard your health.
A 30-minute consultation with an experienced diabetes specialist nurse.
A professional assessment of your diabetes status.
This includes an HbA1C test, which provides a picture of your average blood glucose over the previous few months.
The Diabetes Introduction package is for people who have recently been diagnosed with diabetes and those who are worried about their risk of developing the condition.
Consultant Comprehensive Review
A 30-minute consultation with a leading Diabetes specialist consultant
Pathology tests including HbA1C, cholesterol and lipids, full blood count and analysis of liver, kidney and thyroid function.
Bespoke care plan to improve your diabetes management.
The Comprehensive Consultant Review is our in-depth consultation. It provides a more comprehensive assessment of your diabetes and general health.
Diabetes Weight Management
You will be supervised throughout by a leading Diabetes consultant specialising in weight management including at least one consultation
You will be provided with appropriate advanced weight loss control medication at least a 4 week programme
Bespoke plan to improve your diabetes weight management and support throughout the programme from your dedicated Health Coach to encourage you and answer any questions
The London Diabetes Centre provides a range of remote weight management plans so you can access the support you need to reach your health goals, wherever you live.
A 30-minute consultation with a DSN or diabetes dietitian
Diabetes risk questionnaire
Height, weight, blood pressure, HbA1c blood test and Body Composition Analysis
Our plan is designed for patients who have not been diagnosed with diabetes who want to check their current health status and understand if they are at risk of developing diabetes.
A 45-minute diabetes consultant consultation with written report
A 60-minute diabetes dietitian or DSN appointment
Height, weight, blood pressure, HbA1c blood test and glucose test
Our plan is designed for recently diagnosed patients who are unsure about their diagnosis and need a second opinion or need help deciding on their care plan.
A 45-minute diabetes consultant consultation with written report
A 60-minute diabetes dietitian or DSN appointment
Height, Weight & Blood Pressure, HBA1c, Blood Glucose, Urine Alb/Cr and other tests
This Gold Standard in diabetes assessment will cover most people's fundamental requirements for diabetes care.
45 minute consultation with Diabetes Consultant to discuss the results and provide a written report
Advanced Lipoprotein Analysis
An OCT - Optical coherence tomography, Ankle and Toe Brachial Index and DEXA scan
This premium plan includes an in depth assessment of your diabetes status and also your wider health risks concerning cholesterol and metabolic health
Looking to speak with a member of our team?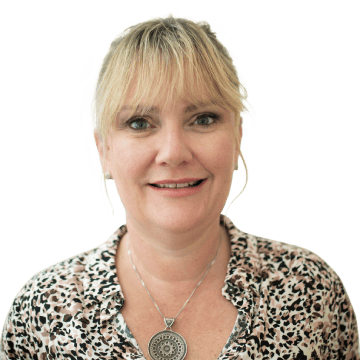 Carol Willis - Diabetes Clinic Facilitator
If you couldn't find what you were looking for today, feel free to give us a call at 0800 048 3330 and ask Carol and her team. Alternatively, just fill in this form and someone will get in touch with you promptly. By using this form, you are consenting to the storage and handling of the data contained in the form by our team.