Enquire now about the new Omnipod® 5
The London Diabetes Centre is the leading provider of the latest insulin pump technology. We are excited to be among the first to offer the new Omnipod 5. If you would like to learn more about this hybrid closed-loop pump system, click here to get in touch and learn more.
The brand-new Omnipod® 5 automated insulin delivery system is now available at the London Diabetes Centre.
It is the first of its kind – a tubeless, hybrid closed-loop system integrated with the Dexcom G6 Continuous Glucose Monitoring System.
Now CE marked, the Omnipod® 5 is approved for people with type 1 diabetes over the age of two.
How does the Omnipod® 5 system help keep your diabetes under control?
The Omnipod® 5 is a state-of-the-art automated insulin delivery system. It's the only tubeless hybrid closed-loop insulin pump integrated with the Dexcom G6 CGM.
The two devices are in constant communication with each other using SmartAdjust™ technology, which enables automatic insulin adjustments to increase, decrease or pause insulin delivery in response to changes in your sensor glucose readings.
The key benefits of Omnipod® 5:
Tubeless and waterproof

*

No multiple daily injections or

fingerpricks**

Fully controlled by the Omnipod® 5 Controller

†

Helps

to increase your time in range and reduce your time above range and time below range

Flexible Glucose Targets and Activity Feature

 to fit your personal needs

Convenient and Flexible Pay-As-You-Go system allows you to choose how long you use the system

Your Glucose and Insulin Data can be automatically uploaded and shared with your HCP
*The Pod has an IP28 rating for up to 7.6 m or 25 feet for 60 minutes. The Controller is not waterproof. The Dexcom G6 sensor and transmitter are water-resistant and may be submerged under 2.4 metres (8 feet) of water for up to 24 hours without failure when properly installed. 
**Fingerpricks required for diabetes treatment decisions if symptoms or expectations do not match readings.
†The Dexcom G6 is sold separately and must be used with the Dexcom G6 app on a compatible smartphone. The Dexcom G6 receiver is not compatible with Omnipod 5.
How does the Omnipod 5® system work?
The Omnipod® 5 is made up of three simple parts:
The Pod – The Pod is a small wearable device that you fill with insulin and wear directly on your body. It is tubeless, waterproof and attached to your body with adhesive.
The Controller –

Take control of the system with the Omnipod® 5 Controller. Monitor and control the Pod's operations using Bluetooth

®

wireless technology

The Dexcom® G6 CGM system – The Dexcom G6 is a wearable continuous glucose monitoring device. The Pod and the Dexcom G6 constantly communicate to automatically adjust your insulin levels based on your real-time glucose values.
The three parts of the Omnipod® 5 work together so that you can enjoy automated insulin delivery. It's always adjusting – so you don't have to.
Where can I get Omnipod® 5?
While getting an insulin pump on the NHS is possible, you might not be eligible for the pump of your choice. However, based on your personalised assessment at The London Diabetes Centre you might be suitable for the Omnipod® 5.
Why choose Omnipod® 5 from The London Diabetes Centre?
Choosing the right technology to help manage your diabetes can give you peace of mind and freedom – transforming your life for the better.
At The London Diabetes Centre, we're proud to provide rapid access to a comprehensive range of the latest technology and devices for diabetes management.
We know that choosing the right technology can be confusing. But this process doesn't have to be with right support.
As part of your journey with us, we'll assess your needs and help you choose the system that is right for you. We'll provide personalised training and support so that you have the knowledge and confidence to make the most of your technology and control your diabetes.
If you're suitable for the Omnipod® 5, you'll receive unparalleled support every step of the way:
Freedom of choice to purchase the latest cutting-edge technologies and devices to help you better manage your diabetes
Expert guidance from highly skilled consultants and diabetes specialist nurses (DSNs) to help you choose the right device for you, explaining the pros and cons of each and what to expect
Onboarding for children and adults
Ongoing education and support
Unlimited access to DSNs
Timely process – you could be seen, assessed and started within 1 – 2 weeks
Omnipod 5 insulin pump cost
Insulin pump costs for pumps such as the Omnipod 5 insulin pump start at £1,000 for the pump, with additional costs required to cover consumables such as pods, and CGMs if required. Costs vary from pump to pump and we do not encourage patients to choose the suitability of a pump on price alone. Book an appointment with a member of our specialist team so we can help you choose the right pump for your needs.
Enquire now to find out if the Omnipod® 5 could help you manage your Type 1 diabetes.
Frequently asked questions about the Omnipod® 5 system
Enquire now about the new Omnipod® 5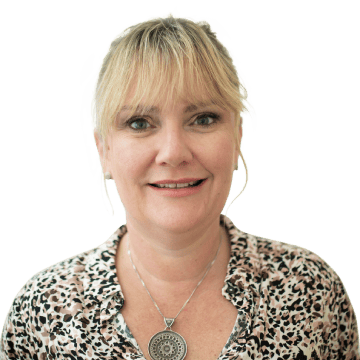 Carol Willis - Diabetes Clinic Facilitator
If you couldn't find what you were looking for today, feel free to give us a call at 0800 048 3330 and ask Carol and her team. Alternatively, just fill in this form and someone will get in touch with you promptly. By using this form, you are consenting to the storage and handling of the data contained in the form by our team.