How to access Insulin Pumps?
Are you interested in accessing insulin pumps for yourself, upgrading your current pump or assessing whether one may fit your current care plan? Find out how London Diabetes can support you by clicking here.
What is the OmniPod Insulin Pump?
The OmniPod is a state-of-the-art insulin pump that combines wireless and tubeless technology.
The innovative insulin pump system delivers continuous insulin to the user. It is completely tubeless and wireless, allowing the user to manage their diabetes conveniently and discreetly.
An OmniPod insulin pump is a battery-operated device that delivers small amounts of insulin into the bloodstream twenty-four hours a day. The OmniPod connects directly to the skin without tubes and communicates wirelessly with a Personal Diabetes Manager to programme insulin delivery simply and effectively.
How does the Omnipod insulin pump work?
The Omnipod is a self-contained system that uses smart technology to deliver insulin reliably. The system is designed to identify problems automatically. If there is an interruption to the insulin supply, the device will notify you and disable the Pod. You just use a new pod and get on with your day.
The Omnipod is made up of two parts:
The Pod: The Pod is a small waterproof device that you fill with insulin and wear directly on your body, with no tubes to connect you. It attaches to your body with adhesive.
There is an automatic inserter that introduces a small, flexible cannula at the push of a button. The device delivers precise, controlled insulin doses into your body through the cannula. The Pod has a reservoir that holds up to 200-units of insulin; during typical use, the Pod provides up to three days of continuous insulin delivery.
The Personal Diabetes Manager (PDM): The PDM is a convenient hand-held device. The Pod communicates wirelessly with the Personal Diabetes Manager to control insulin delivery. You programme the set and variable rates into the PDM to tailor the insulin delivery to your needs.
You can wear the Pod discreetly under your clothes and carry the PDM separately in a handbag or bum bag. The devices should be touching at startup; after that, they will continue to communicate, so long as the PDM is within 1.5m of the Pod. You don't have to worry about a tube kinking, snagging, or tangling.
How do you use the OmniPod pump?
The OmniPod pump is designed to be intuitive and straightforward. Setting it up includes three stages:

Stage 1: Fill the Pod with up to 200 units of insulin. The Pod automatically primes the system and does several checks to ensure safe insulin delivery

Stage 2: Apply the Pod to your skin; it can be attached anywhere you would normally inject insulin. Adhesive connects the device directly to your body

Stage 3: Press start, the device automatically inserts the fine cannula, and insulin delivery begins
Pros and cons of Omnipod insulin pump
In deciding the right pump for your needs, it's essential to consider the advantages and disadvantages of the pump systems.
OmniPod pump pros:
There are no wires or tubes
The device is compact and discreet
It's durable and waterproof so that you can bathe, shower, or swim with the pump on
It has a waterproof rating for a depth of up to 7.6 metres for one hour, so it is not safe for deep scuba diving
You can give small shots of insulin from as little as 0.05 units
Convenient configuration
There is an inbuilt FreeStyle blood glucose meter
The Personal Diabetes Manager is carried separately, communicating wirelessly with the device and enabling you to fine-tune your diabetes control
You can load up to 200 units of insulin, allowing you to wear the device for up to three days
OmniPod pump cons:
The price of the Pods, accessories, and supplies can prove expensive
The Pods can be visible under clothing, particularly in children and people who are thin or petite
The volume of insulin loaded has to be between 85 and 200 units
Supply could be interrupted during rigorous exercise or if the unit is knocked
The Pod can create an unsightly bulge on the skin
The Pod has to be replaced after 72 hours
The OmniPod does not directly integrate with a continuous glucose monitor
Omnipod insulin pump cost
Omnipod costs depend on the number of Pods you use. The maximum load of insulin is 200 units, which is estimated to last up to three days. If you have a greater insulin requirement, you will need to change Pods more frequently, increasing costs.
The OmniPod system, including the touchscreen PDM and a year's supply of pods, costs between £2,000 and £3,000 per patient per year. You also need to consider adhesives, which are between £0.20 – £0.30 per adhesive; antiseptic skin preparation, which is £0.10 – £0.20 per antiseptic wipe and insurance to cover your pump if it gets damaged, lost or stolen.
Looking to speak with a member of our team?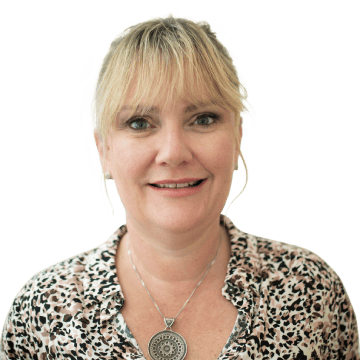 Carol Willis - Diabetes Clinic Facilitator
If you couldn't find what you were looking for today, feel free to give us a call at 0800 048 3330 and ask Carol and her team. Alternatively, just fill in this form and someone will get in touch with you promptly. By using this form, you are consenting to the storage and handling of the data contained in the form by our team.